Edit: I am no longer employed by VMware. But this was definitely one of the best experiences I've had there.
Carrie Fisher is best known as Princess Leia from Star Wars.  This is coming from a nerd who has seen the original trilogy in one sitting at least 40 times and has read over 50 Star Wars novels. I knew she was novelist, a screenwriter and a performance artist, but I didn't know how candid, open, and fun she was in-person. That is, until she visited VMware today.
If you're wondering how she is connected to my company, we have a new program called "Rough Cut" that brings Hollywood icons, particularly from techie geeky movies, onto our campus for Q&A. Like any of the celebrities we love and respect, we know there is much more to people than what we see on the big screen.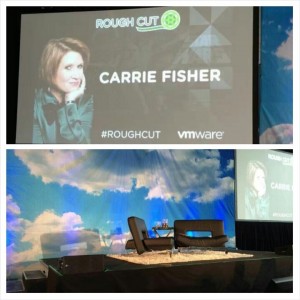 My mind was blown to hear about her deepest struggles and most wonderful successes, all revealed within one hour. I could barely fathom being born into the spotlight with famous parents, Eddie Fisher and Debbie Reynolds. To see her tell and reveal her failures and accomplishments – this was a humbling and wonderful learning experience.
So here's my list of new things learned. Don't flame me for not knowing these facts earlier, and much of what she said today at VMware I had to verify online as I sometimes couldn't discern if she was simply joking (she has one wicked sense of humor).
Ten New Things
I Learned About Carrie Fisher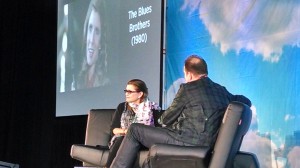 10. Carrie's father left her mom for Elizabeth Taylor when Carrie was only three-years old.  You may have heard that already, but this Guardian article, explained the context. Elizabeth Taylor was married to Mike Todd.  Mike Todd and Eddie Fisher were best friends, as were Elizabeth Taylor and Debbie Reynolds.  Unfortunately, Mike Todd died in a plane crash. It was during this sensitive time of consolation and support when Eddie Fisher started a romantic love affair and ultimately left Debbie Reynolds.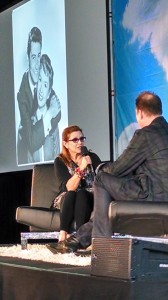 9. She suffers from bi-polar disorder and drug addictions.  This is probably not a surprise to many, but coming from a guy who doesn't know much about pop culture, I was saddened and shocked. Her openness about these two issues blew my mind further. There was no ounce of sugar coating her struggles. You could hear the triumph in her voice as she found ways to live and press on. Soon after, she received a standing ovation from my fellow co-workers.
8. She was engaged to Dan Aykroyd.  According to this CNN article, he also saved her life using the heimlich maneuver when she began choking on brussel sprouts.
7. Her most favorite Star Wars character throughout the entire saga is Han Solo. In fact, she really wanted to play that character. Her second favorite character is Obi-Wan Kenobi, played by the late Alec Guinness. She slyly mentioned she had no love for Jar Jar Binks, which received prompt applause. Lastly, Carrie said someone actually played Jabba's tongue! She didn't clarify why she liked THAT character but we can only guess…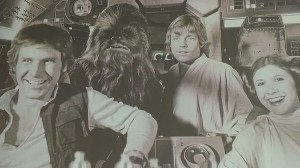 6. One of her favorite cameos throughout her Hollywood career included Saturday Night Live. Carrie expressed SNL was fun and wild. She got to kiss Bill Murray and had to open her mouth as wide as possible! Scream 3 was also fun playing a look-a-like character as seen here. She made a side comment saying with deep conviction that she does NOT remember ever doing a cameo for Fanboys in 2009.
5. Out of all the famous and wonderful stars she has worked with, Tom Hanks is her favorite. During The 'Burbs – her most enjoyable movie – she would go on her day off to visit that street.  She mentioned Tom Hanks started dating Rita Wilson at the time and they would all hang out together.
4. Least favorite star to work with – she said she would love to answer that question but thought very carefully before speaking. The audience erupted with laughter when she curled up her fists and shouted, "And there are so many!" Here is a paraphrase of the someone she mentioned specifically: "the director of the last Star Wars movie" (I assume this means Richard Marquand from ROTJ). She then emphasized that she didn't like shooting guns and that blanks are actually louder than bullets. She would wince every time she pulled the trigger and the director mandated that she take gun handling lessons. Choreographed combat scenes were difficult and became so frustrating for the director that he yelled, "You're F*CKING up my shot!" At that moment, she started crying. And her makeup and mascara dripped down to the bottom of her face which made the director even angrier.
3. Her most rewarding career in the entertainment industry is being a writer. When she mentioned how people came up to her about her acting, she would reply, "There were acting moments when I should have been hospitalized [for awful performances]." Perhaps her most ashamed work: Hollywood Vice Squad, where she wears a police uniform. She said,"It's grotesque and it's hilarious." After watching this trailer, I can definitely get a hint this is not her proudest career moment.
2. Her most proud accomplishment is her daughter. Reflecting on all that her family has been through, she doesn't know how her daughter survived. Carrie feels like she doesn't deserve her and sees her as the most amazing gift.
1. When she hit rock bottom, she watched World War II documentaries. It was her way to find that strength to persevere and keep fighting for life. She is inspired by the U.S. Army, where their training is all about: adapt, overcome and persevere.  "If you think you have a problem, it is a pimple on the [censored] compared to what these people went through. I am inspired by them." And then she concluded, "What are the choices? You can die… and that is not a good choice."
She also paused for a moment and the room went silent. You can tell the emotions were still raw and vivid as she explained the worst experience in her life. A friend died in her bed (she joked, "NOT how you think!") of sleep apnea coupled with drug addiction.  When she found him, that was the 2nd hardest thing she endured (she quickly mentioned the hardest thing is not sleeping for 6 days while hallucinating).  She blamed herself during those dark times and it sounded like she still did in some part.  What made her bring it up at VMware was that today (3/5/2014) is the anniversary of this terrible experience and the loss of a dear friend. I felt the lump in my throat hearing this story.
Bonus fact for my writer friends: Carrie Fisher's favorite writers are David Sedaris and Anne Lamott. Guess I better start reading their books too!
Today's event may have been initially a Star Wars fanboy dream to see who Princess Leia may be like in real life. But it ended being much more than that. Sure, the dirty, vulgar, and shocking humor kept us entertained, but I also witnessed a woman pouring her heart out and sharing the best and worst of her life. That required a lot of strength, humility and thoughtfulness. I'm thankful to have heard her stories.