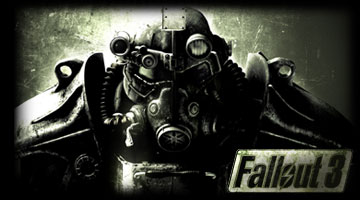 This log entry is inspired by my Fallout 3 gaming experience. Due to its violent nature, please note that this content is suitable for mature audiences only.
There is something magical about the world we live in. Everyday, we discover new people, objects, places and experiences.
There are moments of excitement and joy as we find hidden treasures. On the other hand, there are instances of horror and disgust when we unearth things that were never meant to be found. Today's discovery proved to be the latter. It was a Vault entrance.
Vaults, like the one I was raised in, were built underground to endure nuclear attacks. Vaults reopened upon two conditions: 1) World War III's nuclear bombardment ended; and 2) the immediate environment was measured with safe radiation levels for human colonization. From that point, Vault citizens were called upon to rebuild what was left of America. My vault opened several decades after these two conditions were met, but that's a story meant to be told another day.
This particular vault door had a number on it. 106. It was already open so I assumed the radioactive wildlife would be inhabiting this man-made cave. I noticed dried blood stains smeared across the steel floors and walls. Typical visuals in a post-apocalyptic world. Nevertheless, I was concerned. Where did this community go? I've been traveling for a while and not once did anyone mention they knew a Vault 106 citizen. Perhaps they were attacked by raiders when the Vault doors unlocked? Little did I know that raiders were going to be the least of my worries.
As I walked down the quiet corridors of the underground structure, I found a computer. The machine was still operable and juiced up by the Vault's self-sustaining generators. Thank goodness Dad disciplined me to study while growing up – I applied my science skills to hack into the active terminal. Education is precious, especially in a world where virtually every school had been reduced to rubble. Dad would be proud how quickly I bypassed the computer's security.
Reading the computer's files, I discovered the grim truth why Vault 106 was no longer a refuge for civilization. According to its electronic records, the Overseer initiated an experimental gas exposure to its citizens. These folks were totally unaware of the experiment and they suffered the ultimate price. The gas prompted the unwilling participants to go berserk. In seconds, Vault 106's citizens lost their reasonable senses and began murdering all those who were immune to the chemical gas. The records didn't give me more details but I knew enough. I was in trouble.
I heard movement down the hallway. A survivor? What does an insane citizen look like? Did the effects of the experimental gas wear off? Did someone survive the attack and escape the insane mob? I was determined to find out.
I ran as lightly as I could down the hallway. Two distinct voices spoke in the next room. One male. The other female. The door was already open and I heard small talk over the radroaches infesting the place. The couple sounded friendly and with no taint of insanity. I even detected some flirtatious comments from the male voice.
There was hope and I clung on to that as I turned the corner. I also readied my shotgun. I took to heart a note from a fortune cookie my Dad gave me for my seventh birthday: "Hope for the best, prepare for the worst." Such advice enabled me to experience many more birthdays.
There was a kitchen – full of stocked canned foods. The place was a mess with rust stains on the walls and floors. Rotten food littered across the kitchen counters. Not the best way to maintain a healthy lifestyle but hey, I wasn't here to judge.
I saw a bald-headed man and a blonde woman, each wearing a dirty pair of uniforms with the number 106 embroidered on their backs. The man seemed to be in his fifties and the woman in her young twenties. In these dangerous times, the age gap between romantic partners was nothing to be concerned about – survival, co-dependency, and companionship are key factors in any modern day relationship.
The couple was sitting across from one another at the dining table. They were holding hands and continued to talk about pesky radroaches. I smiled and breathed a sigh of relief. So far, so good.
After a few seconds, the young woman noticed my presence. Under all those layers of dirt, I could detect a pretty face. Then the man turned his head towards me.
They both gave me a blank stare. I stared back. Awkward, to say the least. Eventually, I lowered my gun.
"Are you okay? Do you need any help?" I asked.
The man stood up and slowly revealed the most wicked smile I have ever seen. I don't think I could forget those yellow jagged teeth stained with blotches of brown.
I continued. "I'm from Vault 101 and I mean you no harm."
Then the young woman stood by his side. She started laughing hysterically.
Finally, the man spoke, "We have another present. Let's open him up!" He took out a murky stained lead pipe from his pocket while the woman picked up a dented baseball bat laying on the kitchen counter. Her laughter grew louder and my ears began to ache.
I aimed the gun at the man and spoke, "Don't do it, friend. It doesn't have to be this way."
His smile exposed more yellow, crooked teeth. A trail of brownish drool emerged from his ghastly maw. He raised the lead pipe with his left arm and screamed, "I'm going to enjoy this!"
That was the last thing that came out of that ghastly mouth before his right arm exploded in countless bloody pieces of flesh and bone. My shotgun never fails in close corridors. The man's demented smile disappeared as his bald head turned deathly pale. The lead pipe dropped to the ground, quickly followed by its owner's body.
The woman's laughter ceased as she looked at her partner's silent form. The man's right side sprayed blood all over her. She turned towards me, her face drenched red.
I raised my left arm with an open palm facing her.
"Please! Don't come any closer or I will shoot you too."
Blood continued to drip from the woman's face as a familiar disturbing grin formed. Suddenly, she jumped at me and swung the baseball bat at my head. I ducked. The wooden stick crashed against the wall adjacent to me.
I rolled forward avoiding another swing. Dropping my gun, I grabbed the sledge hammer slung to my back. I swung and heard a loud crack from the woman's legs. Her body flew backwards and ricocheted from the steel wall.
The woman stood on one leg, still gripping her baseball bat. Her other leg dangled – I must have broken something. The hairs on the back of my neck froze as she didn't seem to even notice or feel any pain. Without hesitation, she started to limp towards me. My heart began to beat faster. I couldn't look away from her haunting smile – she was so close I could see layers of yellow, crooked teeth stained with light brown spots. As her broken body approached, I realized the layers of dirt and fresh blood covered any semblance of a human being. I didn't see a pretty face anymore. I saw evil.
"Stop it! What's wrong with you, woman!?" I yelled.
"Die! Die! DIE!" She snarled.
I took a deep breath. The psycho bitch lunged towards me and I struck as hard as I could. My sledge hammer drove straight down on her cranium. I heard a rip and a split-second later, her head bounced off the floor. The woman's body toppled over, showering the kitchen walls with a new coat of dark red.
My jaw dropped as I stared at the woman's severed head. Her eyes fluttered for a second and then stared up at the mold-ridden ceiling. I looked at my hammer to see anything abnormal or modified that could have decapitated her. There was nothing extraordinary – just a typical wooden stick with a heavy metal block at the end. None of this made sense.
I heard footsteps from below. Several footsteps. They were getting louder. I had two choices. Run away or hold my ground. I checked my ammunition and reloaded my shotgun. I knew what had to be done.
Time to purge Vault 106 from this madness.
Next Log Entry: Surviving Vault 106