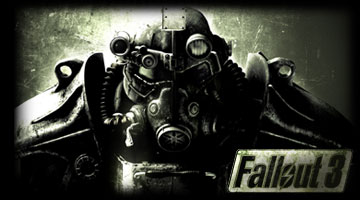 This log entry is inspired by my Fallout 3 gaming experience. Due to its violent nature, please note that this content is suitable for mature audiences only.
Previous Log Entry: Sagacious Prognosis
Miles away from home, the citizens of Megaton begged me not to light the match. I didn't listen.
Once the flaming stick hit the dried bushes, the wastelanders fled. Attracting the local raiders and radioactive wildlife were the last things my neighbors wanted. But I knew what I was doing. At least, that's what I kept telling myself as I warmed my hands over the blazing pile of dead wood.
After the citizens' footsteps could no longer be heard, I sat in silence. The only audible noises were the crackles from the burning bushes before me. Quite the serene moment.
Such experiences don't last long enough in this mad world. I was reminded of this when a rock the size of my hand bounced past me. Either someone had bad aim or simply desired my attention. Possibly both.
"Hey kid, whatcha doin!?" a voice shouted.
I slowly turned my head and saw a man twenty feet away. His baseball cap covered his greasy hair but couldn't hide a dirty, pimply face. He wore a brown-stained shirt and ragged pants.
"What does it matter to you?" I replied.
The man continued to walk closer. "Well, it's not too often someone actually sets camp in my territory."
"I wasn't aware that the Capital Wasteland was yours."
"Everything and everyone I see is mine, kid." The man revealed a toothless grin.
"I'm surprised you're still alive with all the Radscorpions, Yao Guai and Deathclaws crawling around. Then again, maybe they're smarter than you for not trespassing my land."
I kept my hands at my sides, but close enough to draw my holstered pistol.
The man started giggling. "You amaze me, kid. You don't look scared at all."
"Should I be scared?" I asked.
"You really don't know who I am?" The pimply-faced man laughed. "My name is Jarkis."
Jarkis expected a reaction from me but I stood there silently. Not moving a muscle.
He clenched his teeth before raising his voice. "You'd be shitting bricks if you knew what I've done to youngsters like yourself."
I replied, "What do you want from me, Jarkis? If you can't tell, I enjoy sitting by myself."
The man frowned. "You're stupider than you look, kid. I'll make this quick – drop your weapons before things get… messy."
"Try it, buddy. I see you're not even armed with a gun." I patted my pistol, holstered on my left leg.
Jarkis smirked. "I don't need a gun when I have friends." He clapped his hands.
I heard numerous voices cheering and screaming at the top of their lungs. Raiders. I hate these guys. Their footsteps echoed from the boulders behind me. They waved and shot their guns in the air. What a waste of bullets.
Three individuals with blood-stained clothes ran past me to join Jarkis. Each of them held either a leadpipe or a baseball bat. Their weapons dripped a thick red fluid onto the ground. At least one unlucky soul must have met Jarkis and his men shortly before our introduction.
"You scared now, kid? Four of us and one of you."
This time, I smiled. Not the reaction Jarkis desired or expected. He froze in mid-step.
"Wrong. I count five of you scumbags. Three of your ugly friends next to you. That makes four." I extended my thumb and pointed behind me. "One coward still hiding behind those boulders, holding a bloody ice box to protect your precious loot."
Jarkis' jaw dropped. "How the hell do you know that!?"
"Jarkis the Red Death, you have no idea who you are dealing with."
The raider's face turned pale. He began to stutter. "Y-y-ou know who I am?"
"I know what you've done to my neighbors and their families. Not many folks are sick enough to harvest organs from people while they're still alive. Yes, Jarkis. I know your name very well. And I've been expecting you."
Jarkis took another step back. "K-k-Kill him!"
The single man remaining behind the boulders dropped his box and came out to greet me with a baseball bat. One of Jarkis' nearby henchmen joined him as they both began to circle around me. They raised their baseball bats in unison. The coordinated footwork and synchronized practice swings were red flags that I was facing an experienced and lethal duo.
Although raiders typically used guns, Jarkis' crew didn't want to damage any potential organs they intended to sell – so they often resorted to melee weapons to beat and 'prepare' their victims for surgical submission. Tonight, I'm ending the Red Death's practice.
I reached for the two scabbards packed on my back and grabbed one sword for each hand. These blades were crafted by the Chinese Army when they invaded American soil during World War III. I bought these two particular swords at Moira's Supply shop as they didn't seem too old or rusty. She claimed they were in good condition. Time to see if my bottlecaps paid off.
The two proximate raiders lunged at me simultaneously with a vertical strike targeting my head. I blocked their weapons with each sword in cross form. They pulled back and swung horizontally. This time I ducked and heard the two baseball bats smack each other.
These raiders growled in frustration. They weren't holding back their aggression as they desperately wanted to add my death to their list of stupid accomplishments. They swung again and again with increasing rage but could not make contact with their target.
I could have kept up this defense but I knew I had other sickos to deal with. I blocked another vertical attack with my left sword and horizontally slashed with my right. This maneuver prompted me to spin and pivot on one foot as I continued my swing in a complete 360 degree motion. The momentum of my sword hit home twice.
My two attackers fell to the ground. One of them without his head. The other dropped his baseball bat and grabbed his neck, which spurted out gallons of his lifeline in seconds. His voice gurgled as thick, red bubbles slowly emerged from his mouth.
A minute seemed to pass as Jarkis' men simply stood and stared at their fallen companions. Jarkis' jumping up and down as well as his yelling brought them back to reality. They dropped their melee weapons and grabbed their handguns. They weren't taking any chances anymore. Unfortunately for them, I wasn't either.
Without hesitation, my hands released my swords and drew out my pistols holstered at my hips. Before the discarded blades touched the ground, Jarkis heard two gunshots. I noticed a wet stain spreading from his pants as he recognized the bullet holes in his men's foreheads.
"Where are your friends now, Jarkis?" I muttered as I walked towards him.
The man blinked repeatedly and shook his head. "Th-th- that's impossible! No one! No one is that fast!"
Common sense would dictate that he's right. No one is supposed to be this fast. But one visit to Vault 106 changed everything for me. I holstered my pistols, picked up my swords and sheathed them in their scabbards. Jarkis raised his hands high.
"P-P-please! I don't want to die!" He dropped his backpack and slowly opened it wide. Hundreds of metallic pieces shimmered from the campfire. The raider held his bag of bottlecaps as if it was a pot of gold. If he didn't have a death warrant, he could have bought a spacious house and lived comfortably in Megaton.
"See? I-I-I can give you my bottlecaps. My guns… everything!"
"I'd like that."
Jarkis smiled. "Thank you!" The man took off his filthy baseball cap and used his right sleeve to wipe the sweat off his forehead. "You are a good man!"
"We're not done, Jarkis," I said as I took a stepped forward. The man's eyes widened as he looked up at me.
"We're not?" The smile from his face vanished.
"Justice hasn't been served yet," I replied as I walked closer. "We both know how much pain and suffering you have caused. Donating your belongings won't make things fair and right again."
"Please! I was stupid! I'll never hurt anyone again!" The man moaned. He raised his hands again in surrender and fell down to his knees.
"No, you won't." I cracked my knuckles by interlocking my fingers together and extending them outward. I started walking toward him again.
"No! Wait! I beg you!" Jarkis screamed. Every step I took forward, he took one step backward. I could see his hands shaking uncontrollably and his mouth open wide.
"What do you think should be done for your crimes, Jarkis?" I asked as I got nearer. "The death penalty can do only so much, so please… convince me how this world would be a better place with you in it."
When I was three feet away, I stopped. His backward walk also ceased. I wanted an answer. A good one. And he knew whatever was coming out of his mouth would have life-changing consequences.
In seconds, he spoke with excitement. "I-I-I can free all my slaves!"
I snapped my fingers. Jarkis jumped back.
"That's a good start! But what else can you do?" I folded my arms, waiting for a followup answer.
Jarkis' jaw dropped. His eyes looked down in defeat. He shook his head. His breathing became very fast and I can see tears welling up in his eyes.
He cried out, "Please! Just tell me what you want me to do! I'll do anything!"
In a blur, I unsheathed my swords and pointed my blades at the man's jugular. Out of fright, he tripped on his own leg and fell on his back. A dark stain began to spread through his ragged pants.
"Here's a hint. Tell me something you know I want to hear," I replied with a smile. "Impress me."
"I will! I will! I wi -"
"NOW, Jarkis!" I yelled.
Sweat dripped from his pale face. His eyes darted to the left and right. He was thinking. Hard. In an instant, he looked directly at my face and blurted out a name.
"Jaime! You must find Jaime!" Jarkis cried out.
I dropped one sword and with one free hand grabbed Jarkis by his shirt. I brought his face close to mine. His breath smelled like rotten eggs but I didn't care. I was finally getting something important from this man.
"Who is Jaime? Where is she?"
He shook his head. "No, not she. He's a guy. And he needs help!"
"Why does he need me? And how do you know him?" I stared at his eyes. Jarkis was probably too scared to blink at the moment.
He replied, "It was on the radio half an hour ago. He begged for someone to help him escape this abandoned building. It's called Dunwich. I couldn't hear everything he was saying because of the static."
"Bullshit, Jarkis." I let go of his shirt and the man fell to his knees. He raised one arm – as if that was going to protect him from me.
"No, it's true! I swear! My boys would have checked it out and robbed him tonight but we don't go anywhere near that building anymore. It's too dangerous and haunted."
I raised one eyebrow. "Haunted? How so?"
"I-I-I don't know. We've heard some crazy ghost stories. I even sent some of my crew there weeks ago. Th-th-they never came back. I didn't want to lose any more of my men so we stay clear of the Dunwich site now."
I raised my sword and swiftly swung it at the raider. Jarkis screamed. The blade stopped two inches away from his neck.
"Jarkis, are you screwing around? I don't have time for lies, much less traps!"
"No, I swear it! On the souls of my family!" His eyes couldn't get any wider than they were. His breathing sped up. His legs were shaking.
"Jarkis," I raised my left blade and pointed it directly at his right eye. He began to wail. His shrieking grew so loud it began to hurt my ears.
"Shut up!" I yelled as I kicked him in the chest. He landed on his back. The impact knocked the air out of him. He stopped screaming but continued to whimper.
I simply stared at Jarkis. He curled up in a fetal position and covered his face with his hands. Five minutes ago this infamous raider was planning to profit from my murder. Now, he was nothing more but a broken man. But even broken men have value.
"I believe you." I said.
Jarkis uncovered his face with his hands. He looked up at me. Tears welled up in his eyes.
"I'm granting you a new life, Jarkis. But you have to promise me something."
Jarkis vigorously nodded his head.
"Free all your slaves and give them everything you own. Keep enough for yourself to survive but if I don't hear about your generosity when I return, I will hunt you down." He let out a deep sigh of relief as I lowered my weapons.
I raised one finger and pointed it at the man. "If you harm an innocent life ever again you are a dead man. You've seen what I can do and you know I would find you. Do NOT break your promise, Jarkis. That would make things … messy."
I picked up his bag of caps and closed it. Then I threw it at its owner. The backpack bounced off his chest.
"I promise." Jarkis said. No hesitation. "For the rest of my life, I promise!" The man's sobs grew louder as he repeated himself. "Oh god, I will keep this promise!" He sat cross-legged on the floor, looking down at his bag. Tears streamed down the man's cheeks.
"Congratulations," I said. "You're officially a retired raider. Now do something good for once and tell me where this Dunwich building is."
Next Log Entry: The Dunwich Encounter