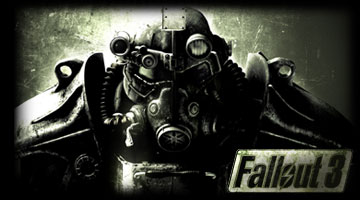 This log entry is inspired by my Fallout 3 gaming experience. Due to its violent nature, please note that this content is suitable for mature audiences only.
Previous Log Entry: Coerced Generosity
Beneath the starry sky, one structure stood in the middle of nowhere. The wastelanders called it the Dunwich Building.
Legends claimed that a malevolent force inhabited this building prior to the Chinese invasion. It was so powerful that even World War III's atomic bombardment did not completely destroy the towering skyscraper. Some folks believed whatever was found in the Dunwich Building prompted China to attack America. What I found most disturbing were the ghost stories. They warned of countless travelers and explorers entering the Dunwich ruins, but no one ever left.
Walking towards this infamous structure, I could see the skyscraper's surviving bottom five floor levels. Its foundation seemed solid and strong. I kept my head low and jogged around the perimeter of the Dunwich Building. There was something missing. Security. Unlike other surviving shelters, the Dunwich site was void of all radioactive wildlife, robot sentries and territorial raiders. Apparently, even the Capital Wasteland's most deadly predators avoided this region.
But I wasn't seeking shelter or a new home to claim. No, my purpose was different. A few hours ago, a man named Jaime sent out a distress call using the Dunwich Building's radio communications. I intended to rescue him.
Walking nearer to the front entrance, I noticed the cemented patio had a thick, undisturbed layer of dust. Every step I took, I would leave a footprint. I looked up and found several dusty footprints ahead of me. I bent down and studied them. The shapes of the footprints all pointed towards the entrance and never the opposite direction. Perhaps the ghost stories were true. No one ever left the Dunwich Building.
Oddly enough, there was no lock at the front entrance. More surprisingly, even after nuclear fallout, this metallic door seemed fully intact – if not, flawless. I took a deep breath and touched its smooth surface with my left palm. Strange how warm it felt when I pushed it open. My right hand firmly gripped my combat shotgun as I stepped into the Dunwich lobby. The interior was dark and the building's electric power seemed non-existent.
I waited a solid minute and listened for any movement or sign of life. Nothing. I activated my Pip Boy's flashlight. This personal storage device wrapped around my left wrist wasn't the latest model but it had its perks. Illuminating an entire room was all I needed at the moment.
But the artificial light revealed a ghastly sight. Several skeletons sprawled across the floor. The bones on the skeleton were were picked clean and a thick layer of dust settled on their remains. Long streaks of dried brown blood splattered the lobby's walls. The clothing on the dead were nothing but withering rags.
As I took my first few steps into the Dunwich Building, a cold breeze flowed from the inner hallway. The hairs on the back of my neck stood up. In mid-step, I heard a raspy voice whisper, "Leave now."
I cocked my gun and pointed it forward. I squinted my eyes to see further but nothing was visible. I silently counted to thirty as my right index finger yearned to pull the trigger on a moving target. But I saw nothing.
Another chilling wind brushed past me. Suddenly, the front door entrance slammed shut. I nearly jumped as the sound echoed. Without thinking, I sprinted back to the door and grabbed its handles. With a sigh of relief, the metallic entrance opened again. I looked up to the night sky. The stars twinkled brightly as if they were signaling me to exit.
I wanted to leave. Life would have been easier if I took a few steps out the door, pretended nothing happened and moved on with my life. I would have returned to Megaton and enjoyed the safety and peace within the city's fortified walls. But no, someone needed me. And his name was Jaime.
I took a deep breath and pivoted around. I slowly walked down the dark hallway past the lobby and came across a room to the left. The sinks, dishwashers and stoves indicated that this room was the building's kitchen. There were more corpses scattered across the tile floors and tables. All of the deceased were covered in old filthy rags and settled dust. This time, however, I noticed some of the dead's limbs laid several feet away from their skeletal bodies.
One of the kitchen lights ahead of me flickered. I creeped up towards the light source and saw a bunch of audio disks on the table directly below the bulb. I stopped to scrutinize this pile of data – they were each labeled in chronological numbers with the handwritten name: Jaime. In an instant, the light bulb completely illuminated. I looked around for someone playing with the kitchen's light switches but the accumulated dust on the control panel indicated that no one touched it in ages.
I grabbed the audio disks and inserted them into my Pip Boy, according to their designated numbers. While they were uploading, I checked for any other kitchen exits. There were none so I closed the entrance I came in and locked the door.
I sat down on a chair and pressed the Play button on my Pip Boy. At first, I heard static but a few seconds later, I heard a young man's voice from the wrist gadget's speakers.
"Day One. Dad left without telling me goodbye and this is my first day out of the hospital since the 'incident.' What could have made him leave without warning? He must've had his reasons. But the Capital Wasteland is too dangerous for one man. I must find him…"
My heart skipped a beat. It's not everyday you hear about another person's dad ditching his son without an explanation. But Jaime's first reaction was to look for his father. Should I be looking for my dad too? No, my circumstances were different. My dad didn't want me to leave Vault 101. He said it was the safest place to be. But then again, I don't think Dad anticipated the Overseer trying to kill me. It didn't matter. I must find Jaime first. He was the one who asked for my help anyway. Not Dad.
The next few journal entries revealed how Jamie encountered a bunch of blood-thirsty raiders. He had to kill them to prevent an entire family from being slaughtered. I haven't even met Jaime but I knew I liked him already. He was a man of faith who pursued justice. Amazingly, God answered his prayers as this rescued family knew of his father's exact whereabouts. They pointed him towards the Dunwich Building. He, too, was warned of the ghost stories. But Jaime went anyway. We have a lot in common, Jaime. I hope to meet you soon.
As I was about to listen to the next audio tape, the light bulb's power quickly faded. I stopped the audio playback and listened. Seconds later, I heard something shuffling outside the kitchen. Reflexively, I turned off my Pip Boy light and readied my gun.
The noises grew distant. After unlocking and opening the kitchen door, I walked into the hallway corridor with my gun ready. The noises seemed further away. They were coming from one of the rooms a couple of doors down. I edged closer to the targeted door and recognized the woman's restroom sign on it.
I opened the door and gagged as a putrid smell filled my nostrils. The stench seemed to be a combination of puke, shit and death. The room's lights were flickering, revealing stalls on the right hand side. There was another section of the restroom to my left but it was blocked by a thin wall. The noises came from around the corner.
My eyes widened as I saw a shadow of a man six feet ahead. His shadowy form was hunched over, looking down at the floor. As I stepped closer along the restroom's walls, I heard the man's deep breathing and something else – a voice. It was filled with mucuous and sounded like gurgling. Was this person in trouble? Was he pleading for help? Could this be Jamie? My heart was pounding.
Before I turned the corner, the restroom's light went out. I couldn't even see my own hand. The gurgling noise was louder and the foul odor was overwhelming. I had to see who was in front of me. I turned on my Pip Boy light and readied my combat shotgun. What I saw was beyond human comprehension. Instinctively, I screamed and pulled the trigger.
And then all hell broke loose.
Next Log Entry: The Dunwich Residents