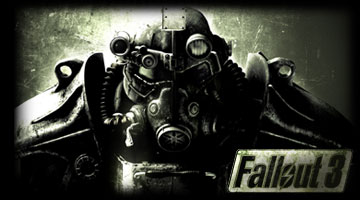 This log entry is inspired by my Fallout 3 gaming experience. Due to its violent nature, please note that this content is suitable for mature audiences only.
Previous Log Entry: The Dunwich Encounter
It must have spawned from the pits of hell.
From a distance, this thing could easily be confused as a human. But what I saw in this confined, debilitated restroom was absolute terror. The creature seemed to have been skinned alive yet somehow survived. Thin, transparent mucuous-like fluids covered its humanoid body revealing pink and dark, red muscular tissue. The thing was topless and wore ragged pants, barely providing any cover for its crimson limbs. I could see its upper torso muscles pulsing as organic liquids dripped onto the cracked, blemished tile floor.
With its flammulated back facing me, the hairless creature hunched over on its knees. Its bloody hands violently dug into something. No. Someone. At its feet, a corpse of a woman laid face-down. Its monstrous claws scooped chunks of moist meat from her ravaged back. My jaw dropped as I realized this thing was feeding on what was left of her. I tasted bile surging up my throat a split-second before I vomited.
The creature stopped chewing the fleshy scraps trailing from its mouth and turned its grotesque face towards my direction. Its glazed eyes were void of any pupils but I knew it could see the fear written all over my pale, stricken face. The monster screamed as it lunged. Its razor-sharp claws were inches away from my neck just before my shotgun blew a gaping hole through its chest. I stared at its fallen form and breathed a sigh of relief.
Feral Ghouls.
From what I've read, these things were once people. The excessive exposure to radiation inevitably caused their hair and entire skin to peel off. What's left was a bunch of organs and muscles held intact by a thin film of radioactive organic glue. Wastelanders classifed these zombie-like animals as high-risk encounters. Feral ghouls could never be reasoned with due to their overtly aggressive behaviors and they seemed to attack everything and anyone who wasn't a decrepit, flesh-deteriorating ghoul. Some of the most violent ones even started glowing. Their radiation-saturated brains destroyed any sense of humanity. Every breath and action taken were to serve one carnal need: to feed.
When I shot the feral ghoul, it died instantly. But the gun's noise blast grabbed the attention of other Dunwich residents. I could hear their chilling screams and their slimy feet pattering nearby. They came in full force without any hesitation.
I sprinted back towards the kitchen door. At least that room only had one entrance – with a lock. As I stepped into the hallway, my heart sank as I saw rapid movement ahead. Without hesitation, I pulled my shotgun's trigger. Repeatedly.
BOOM! BOOM! BOOM!
The spread of the shotgun blasts ripped four of these creatures in half. Their slimy body parts splattered the hallway with a thick, red streaks. But there were more ghouls. A lot more. I unleashed more firepower through the narrow hallway. Three of these radiated zombies' heads exploded from point-blank range. But the Dunwich Building's residents kept coming. Everytime one fell, another berserking ghoul sprung forward. Their collective shrieks felt like a needle stabbing into my ear drums. Oh God, there were too many!
One frantic monster closed in and knocked the shotgun out of my hands. I swung my right leg in a crescent motion and made contact with its deformed face. I heard a squishy sound as my boot's impact initiated a clothesline effect. Its clawed feet flew upwards and the creature landed on its neck. I couldn't help but smirk when I heard something snap.
My smile disappeared when I felt a sharp burning pain from my right shoulder. I turned my head to see a feral ghoul's canine teeth sinking into my flesh. Screaming in pain, I flexed my left hand's index and middle finger and jabbed them into the monster's face. The swift motion resulted in impaling both of the ghoul's eyesockets. I heard something pop as my digits pressed onward towards the creature's brain. It released its bite from my shoulder and howled. I shut the thing up with an uppercut to its gooey chin, forcing its limp, scarlet body to soar backwards.
I looked down to find my gun but there were too many corpses and torn limbs on the floor. Blood seemed to ooze everywhere. All I saw was red. The Dunwich Building's lack of lights didn't help either. My eyes focused ahead towards the kitchen door and saw more of these creatures emerging from the rooms' entrances nearby. Their screams got louder and louder.
Suddenly, I felt a familiar chilling breath behind me and heard that raspy voice again. "Run!"
I pivoted but didn't see anyone. It didn't matter as I knew what I needed to do. I turned off my Pip Boy's light and ran.
I could hear the ghouls' sharp piercing cries behind me. Their fleshy feet slapped against the ground. They sounded as if rotten eggs splattered across the tile floor. Shit, they smelled just as bad too. The ghouls' stench grew stronger. They were getting closer.
I didn't know how long I could outrun them so I reached into my backpack and pulled out my Stealth Boy. I clipped the clunky cone-shaped gadget on my wrist and activated it once I turned the corner. This technological wonder enabled my entire body to be cloaked with my immediate surroundings so long as I didn't make any sudden movements. I only used it sparingly since its camouflage effect consumed ridiculous amounts of battery power. I think my dire circumstances justified its use at the moment.
Stealth Boys never provided complete invisibility. I confirmed that as I looked down to see my body's frame distorting the wall's visible textures behind me. I stood against the indentation of the wall as one feral ghoul ran passed me. It didn't even glance at the human-shaped wall to its right. Another sprinted past me. And then another. After what seemed like an eternity, their fleshy footsteps could no longer be heard. Thank God their radiated brains equated to stupidity.
I quietly made my way to the next room and closed its door – just in time as the Stealth Boy's battery power shut down. I locked the room's only entrance and switched on the Pip Boy light. The room had a sign above the door: A27.
I took a step away from the door and turned around. Whatever hope I had left in me evaporated as the Pip Boy light illuminated Room A27. The sight of partially-eaten corpses littered around the chamber didn't faze me. But I nearly cried when I recognized the dozens of rusty man-sized barrels. Each one had a labeled picture of three curved blocks revolving around a centered circle. My legs shook and I fell to my knees as I saw glowing yellowish-green fluids leaking out of the pile of barrels. Toxic waste. There was radiation everywere.
My breathing became shallow as a haunting thought struck me. Whatever abilities and strengths I gained from Vault 106, they were gone – ever since I entered the Dunwich Building. Why didn't I sense the ghouls ahead of time? How could I have been attacked so easily? The answers laid right in front of me.
Constant exposure to this raw and harmful energy were sapping away my life. And those rabid ghouls were loving it. Even worse, rumors mentioned that their radioactive bodies evolved and thrived in toxic environments. From faster running speeds to supernatural strengths, these Dunwich bastards were very hard to kill. I could never fight my way out of this.
The thought of becoming their next meal in the Dunwich Building caused me to shudder. I caught a glimpse of my right shoulder. Blood continued to gush out and my arm seemed alarmingly pale. My fingers were trembling and cold sweat dripped from my chin. My vision began to blur and my body was overheating with a fever. My eyes felt heavy and I yearned to close them. But I knew if I fell asleep I would never wake up again.
God, I needed to hear a human voice again. I looked down at my Pip Boy. At least, I could listen to Jaime's voice while bleeding to death. I wondered if the radiation sickness would kill me first as I pressed the Play button.
Jaime's audio taped voice spoke, "My God! There are no survivors in this building – if they're not eaten first, they all become fucking monsters! Damn radiation is killing me. Whatever is in this building is powerful."
I shook my head and clenched my fists. If only I heard this tape sooner, I would have left without question. I could have at least returned with a radiation suit. Way to go, dumb ass. How could I have been so stupid?
Jaime's audio tape continued. "But there is hope. Go to Room A27."
Did he just mention Room A27? There was nothing but dead bodies and enough radioactive wastes to attract an entire ghoul city! What the hell was Jaimie talking about?
The recorded voice played on. "You'll find something that saved my life. Check the closet."
I mustered up whatever strength I had left and slowly stood up. My legs felt sluggish as I limped forward into the room. Scanning for anything that didn't look like a toxic barrel or dilapidated leftovers from a ghoul's lunch. But then something caught my eye. A metallic reflection shimmered from behind a pile of corpses. I hobbled closer and recognized the steel box. Its handles were facing up. There was a fresh handprint disturbing the closet's dusty surface. I opened the storage unit and almost yelled with joy as I gazed upon a rack of sealed and bagged radiation suits. Jaime, you are a saint!
In minutes, a perfectly conditioned protective suit covered my entire body. I knew I looked ridiculous with the bulging black glass-visor helmet and the synthetic blue rubber garments. But none of that mattered.
In seconds, I felt as if I just rejuvenated from a long restful sleep. My shoulder stopped hurting. The fever was gone. I felt strength returning to my legs and my hands no longer shook. I raised my arms in truimph. There was hope. Thank you, Jaime.
I looked down at my Pip Boy and realized that the audio tape was almost done. Jaime's tone changed. He sounded agitated. Almost desperate. He spoke slowly. "I don't know how long I can stay here in the basement. There's enough food to last for a few weeks and my radiation suit should hold up. If you get this message, it means Dad didn't die in vain. He –."
Suddenly, I heard a distinct mucous-filled gurgle from the Pip Boy speakers. My body jolted as the recording emitted what sounded like a series of gunshots. A few seconds later, I could only detect static. I looked down at the Pip Boy display. The audio tape ended.
I reached into my backpack and gripped my silencer pistol. Jaime, hang in there. I'm coming for you. I turned off the Pip Boy light and opened Room A27's door. My renewed senses could detect the ghouls' movements. All of them seemed occupied and clustered near the kitchen. I ran towards the opposite direction into unexplored territory. My steps were light enough to remain hidden. Within a minute, I walked downstairs to what had to be the basement entrance.
As I touched the door's handles, I heard someone's footsteps. These weren't the typical slimy meat-slapping noises. The steps were crisp as they tapped against the tile floor. Whoever was inside was wearing shoes!
My heart began to beat faster. With my pistol in one hand, I single-handedly pulled the door handle with the other. I slowly created an inch of open space between the door frame and the door itself.
Pointing my silencer through the narrow opening, I whispered, "Jaime?"
The shoes stopped pacing. A familiar raspy voice whispered back, "Leave while you still can."
"No way. Not without you!" I replied. I didn't risk my life just to be rejected.
I pulled the door wide open and rushed inside the pitch dark room. A flashing white light suddenly illuminated the entire basement. I instinctively raised my left arm to deflect the surging brightness but it was too late. My eyes stung. Numbness spread over my face as the intense luminosity blinded me.
The raspy voice yelled, "You should have left, Vault Dweller!"
And before I could react, the basement door slammed shut.
Next Log Entry: [Untitled]