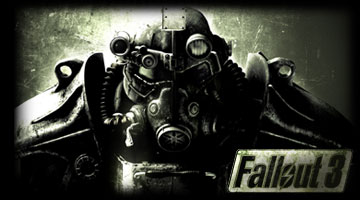 This log entry is inspired by my Fallout 3 gaming experience. Due to its violent nature, please note that this content is suitable for mature audiences only.
Previous Log Entry: Discovering Vault 106
Time is precious, especially when you don't have much left.
Every fiber of my being wanted to leave Vault 106. But what I discovered must be destroyed. This evil had claimed too many innocent lives. The footsteps of Vault 106's insane citizens grew louder. Any minute this room will be filled with blood. Hopefully not mine.
I stood by the Vault's kitchen door and poked my head out in the hallway. I cursed as I saw over a dozen individuals in grimy stained clothes rushing from the opposite end. They were carrying hammers, crowbars and knives. I was armed with my shotgun but I knew that alone wasn't going to stop a fanatical mob in these tight corridors. I shut the kitchen's door and looked for a lock. My heart sank – no lock.
Beyond the entrance, one of the freaks yelled, "More fun for everyone!"
A female voice shrieked, "Rip out the prize from his corpse!" I didn't have the luxury of pondering what that prize may be.
I scanned my immediate surroundings. There was another door that led to an empty bedroom. Perfect. I reached into my backpack and activated five frag mines. These babies had electronic motion detectors. Once powered up, any sudden movement would trigger its explosive effects. I planted them on the kitchen floor and closed the metal door behind me.
I saw a bed at the end of the room and sat on it. I closed my eyes and whispered a quick prayer. "God, please protect me."
The kitchen door opened and psychotic laughter echoed throughout the Vault's hallways. Like music to my ears, I heard a series of instant beepings followed by powerful sound blasts. The bedroom's metallic door shook but held firm. Silence reigned the vault. Thank you, Jesus.
I opened the door with my gun ready. I've never been so happy to see severed human limbs sprawled across the kitchen floors. The insane Vault 106 citizens would never harm another innocent soul again.
I traveled deeper into Vault 106, as I needed to replenish my food, supplies and ammunition. The rusty stains and dried bones of murdered citizens were a common decorative theme for each room. Every skeleton I came across justified my actions for ridding the world of these lunatics. The problem was solved.
I knew I was wrong the moment my vision temporarily blurred. Suddenly, my perception of the world literally turned blue. I thought I walked in a room with blue-tinted light bulbs but something horrible was happening. The decrepit, bloody splattered walls instantly appeared spotlessly clean. The corpses that littered the floor were gone. Even the old ragged furniture looked brand new. Impossible!
My heart thumped faster. Sweat trickled down my right cheek. My mouth felt dry and my breathing became more difficult. What happened to the air – that's it! There was something in the air! Gas!
The Vault's computer archives I accessed earlier explained the release of an experimental gas that prompted Vault 106 citizens to create havoc. How could I be so blind? The Vault's citizens were not the problem. It was the gas. The same gas that I breathed into my lungs!
I didn't know if I was too late or too exposed to the chemical agent but I knew I needed to get out. Holding my breath for as long as I could, I bolted towards the exit. Unfortunately, my current position was two floors below ground level. Running without breathing that long of a distance would incapacitate me. I had no choice but to inhale the tainted air as I fled for the surface.
After reaching Vault 106's ground floor, I thought I might be less exposed to the experimental gas. After all, it's been decades since this gas was released throughout this steel shelter. But then I saw something in my way. No someone. I raised my gun to fire but the figure stepped out into the light.
My legs froze. My jaw dropped as I recognized this familiar person. "Dad?"
He replied, "Where do you think you are going, son?"
Strangely, I also heard his voice from behind me. "Breathe in the Blue, son."
I turned and saw Dad. Again. Behind him was another man… who looked exactly like Dad. And another behind that man. I knew I was going crazy. That damn gas was affecting me!
"You're not real!" I yelled.
My Dad(s) stared at me with glazed eyes. In unison, they said, "Of course I am…"
After a few seconds of silence, all of them shrieked, "And you will stay here with me!"
These things that resembled Dad sprinted towards my position with that familiar menacing laughter. I panicked and fired. Once the bullets appeared to make contact, these creatures would instantly dissipate into nothingness. The projectiles ricocheted off the vault's metal walls. More and more images – ghosts – of Dad came out of the shadows. His many faces showed nothing but rage and hatred as I ran towards the exit.
My legs started aching and I began coughing uncontrollably. The mob of Dads were close. I felt their chilling breath upon my neck. These phantoms screamed at me to stop. A faint yellow light could be seen down the hallway and I realized it was the Vault's entrance – also, its only exit. Freedom was in sight.
I heard someone or something pushing a series of buttons on the exit's control panel. The door started to slowly close. The light from the outside world began to fade as the Vault's gigantic metallic door nearly covered the entrance. My legs felt sluggish but I kept running. My life depended on this.
In three seconds, the vault would be permanently sealed from the outside. I used every last bit of strength to dive forward. I shut my eyes and screamed. I heard the giant metal door shut. I felt a phantom grab my left ankle with an overwhelmingly icy firm grip.
I continued to scream. The thought of being trapped inside was too much to bear. But then I noticed the only sounds made were my own. The ghosts' voices ceased. I felt a jagged rock against my chest and the gritty sand under my palms. The blue vision faded as I perceived a red gash on my left ankle. Miraculously, my coughing stopped as I sucked in fresh air. With a new sense of hope, I found myself staring at the exterior steps of the rusty entrance door. I survived Vault 106.
But nothing good could come out of this cursed location. Whatever I breathed into my lungs was still there. I could taste its subtle acidic taint. The foreign substance lingered within me. Perhaps there was nothing to fear. But what if this chemical agent was designed to remain dormant? What if I was a walking time bomb, just moments away from unleashing destructive madness unto others?
These questions I could not answer but I knew someone who would.
Next Log Entry: Sagacious Prognosis